For professional management of depreciable assets with the related amortisation, write-downs, revaluations and other changes. The program automatically calculates amortisation based on the parameter's setup. A data history is maintained, and they can then be imported into your accounting.
See the presentation page for Fixed Assets Register.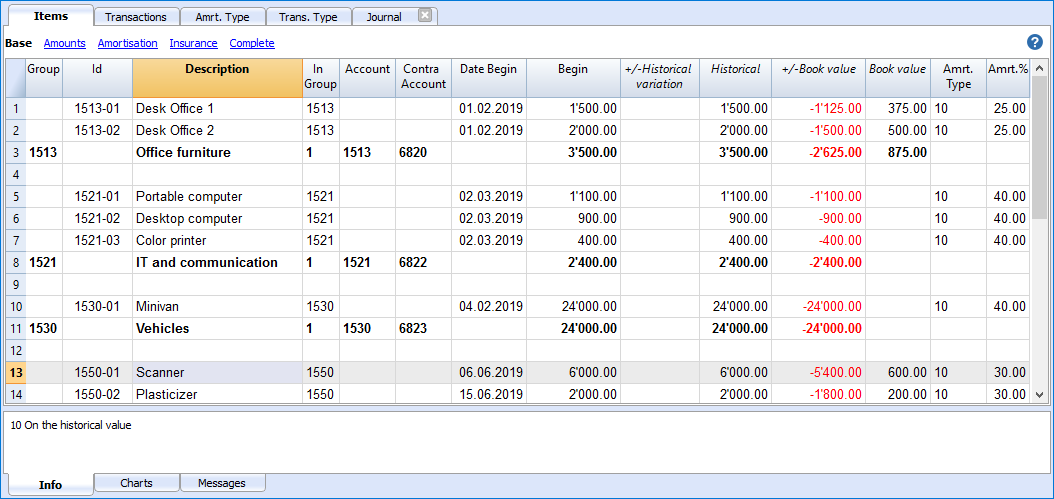 How to manage your Fixed assets register
The steps to manage your register are summarized below:
Create a new file of the Fixed Assets Register type.
Search for the Fixed Assets Register templae
Insert the different acquisitions into the Items table, setting up the different values and parameters for the calculation of the amortisation.
You may create groups for items that have the same parameters.
At the end of the period, choose the Create amortisation rows command from the Utilities1 menu. The program will create amortisation rows for individual assets, based on the specified parameters.
The amortisations can be imported into accounting with the Import into accounting -> Transactions command, from the Account1 menu.
The contents of the Fixed assets register
The fixed asset register file is composed of the following tables:
The logic of the Fixed assets register
As opposed to a regular Excel spreadsheet, that will normally only register the changes in accounting values, this application works with an accounting logic and offers a solution for all kinds of needs.
In the Items table all the individual assets, with the date, purchase value, type and percentage of depreciation and other elements are listed.
In the Transactions table all depreciation, revaluations or write-downs for each individual asset are indicated

It is the historic trace of all value changes of the asset, from purchase to disposal.
The Create amortisation rows command calculates amortisation based on the settings in the Items table and generates amortisation rows.
The transactions values can be edited (if a different calculation is needed in the first year).
You can enter transaction for increases in value, special amortisation, adjustments to the tax value or other values.

The amortisation operations can be imported into your accounting file with the command Import into accounting.
Keeping track of all your assets values
Asset at purchase value
The total outlay for the purchase of an asset.
Historic value (purchase value +/- assessment of appreciation or amortisation).
Which is needed for the calculation of amortisation on historical value.
Accounting value (historic value +/- corrections due to amortisations).
As managed in accounting.
Fiscal value (Accounting value +/- corrections of the fiscal value).
As recognized by the tax authorities.