Professional accounting and forecasting software similar to Excel
Easy, fast and secure data entering. Instant results.
If you know Excel, you already master Banana Accounting
Friendly interface
At any time you have complete freedom to add, delete, copy and paste, modify information, or to undo/redo operations. Create as many files as you wish, name them and save them wherever you want: computer, hard disk, USB stick or on your favorite cloud.
Entering data is very fast and intuitive and you see all the updated balances at a glance. You always have the financial situation under control and you take effective business decisions.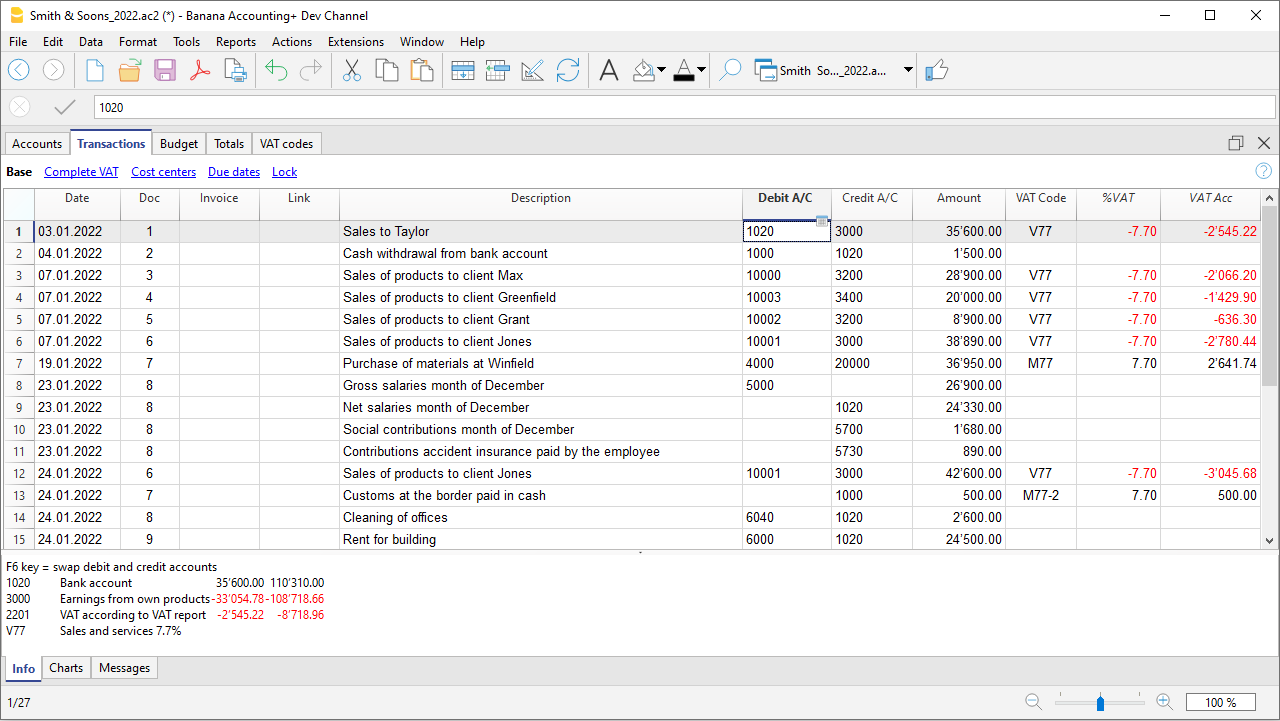 More than Excel
The big advantage compared to Excel is that you don't have to make any complicated setup. Banana Accounting is ready to use, with the formulas already integrated.
When you create a new file you have the table for entering the chart of accounts, the accounting and forecasting transactions, with all the columns already configured.
Cross-checks ensure data accuracy according to international accounting standards and any errors are reported immediately.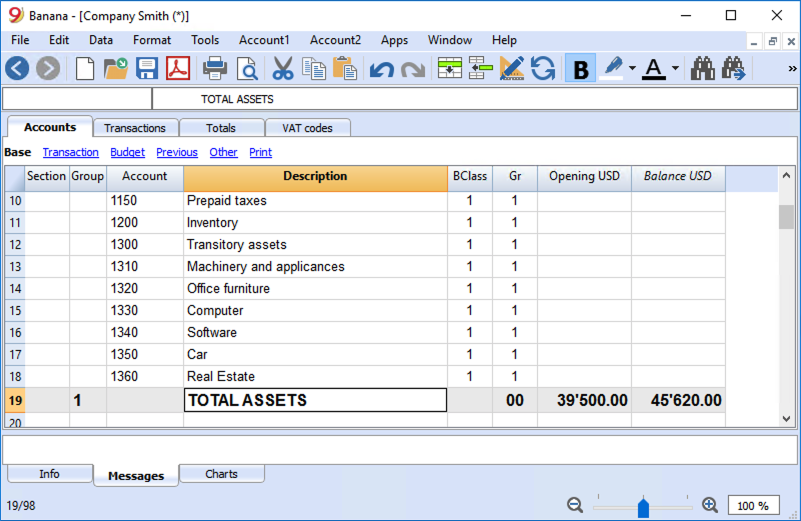 Ready-to-use templates
Get started in 3 simple steps: choose a template, adapt-it and your're ready to do accounting!

Choose from more than 1'000 customizable templates. We have templates for small and medium enterprises, associations, families and individuals, startups and accounting education. Choose the template that best suits your needs.
Many accounting applications
Banana Accounting has different applications: Cash Manager, Income & Expense, Double-entry and Multi-currency accounting. Choose the application that best suits your needs.
In the same accounting file you can create financial forecasts, to avoid liquidity holes and be forward-looking, and automatically generate several professional accounting reports.
Multi-currency accounting
Manage your accounts in multiple currencies: you can use any currency!
In the Exchange rates table you define the exchange rate for each currency and Banana Accounting automatically calculates the counter value of the basic currency.
For international business we suggest the multi-currency accounting.
LEARN MORE ABOUT MULTI-CURRENCY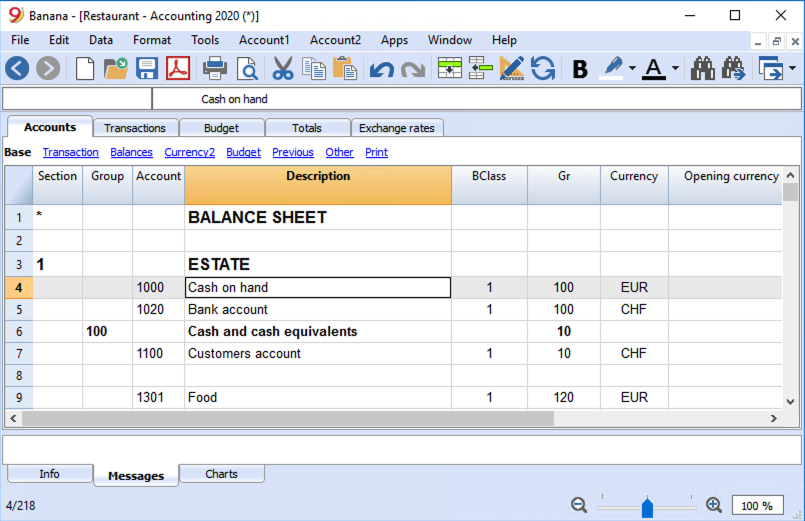 Multi-language software
Work using your preferred language! Don't struggle with a foreign language in your daily work. Use the one you are most comfortable with, and get reports in the one you need them to be.
Planning-Executing-Controlling
Accounts table
Setup the accounting plan and how the Balance and Profit & Loss should look like. Here you also enter the opening amounts.
At any time you can add new accounts, groups and you have also the updated balance for all accounts.
Transactions table
Enter the accounting Transactions, debit and credit accounts, amounts, VAT code, cost and profit centers, segments. Everything in one place. 
You can always change, so everybody can have a perfect accounting.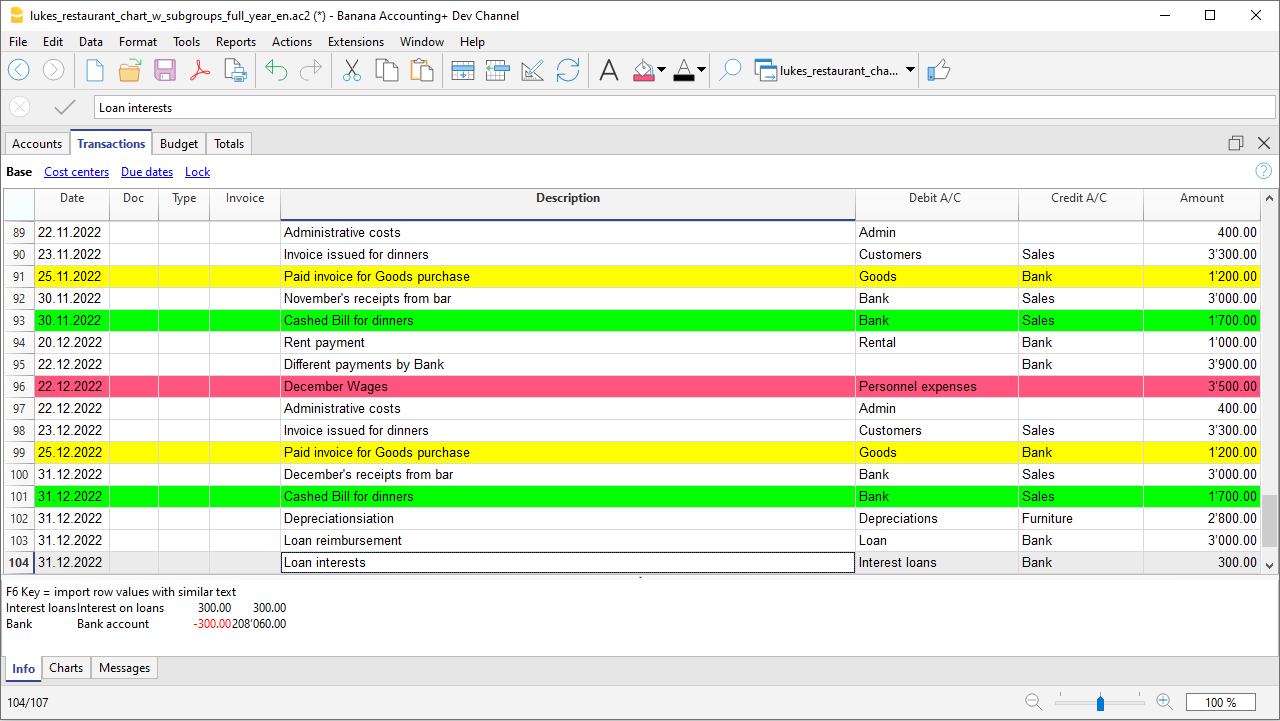 Financial forecast
Revolutionary financial forecasting system based on the double-entry method.
You have an instant view of all your budgeting transactions and the evolution of bank accounts balances, sales or costs. Banana Accounting is able to project your financial forecast over several years, by month, quarter, half year or year.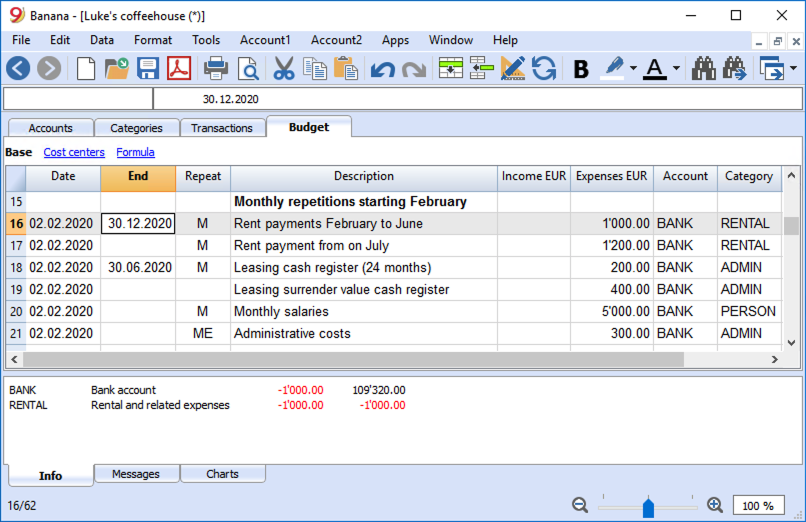 Balance Sheet and Profit & Loss
Print in an instant and at any time of the year beautiful customized Balance Sheets and Profit & Loss.
The reports can have accounting data, forecast data or both together.
Many professional reports
There are many reports you can create: Liquidity plan, Journal, Accounts cards, VAT reports and anything you need.
You can also personalize your printouts and save your print settings.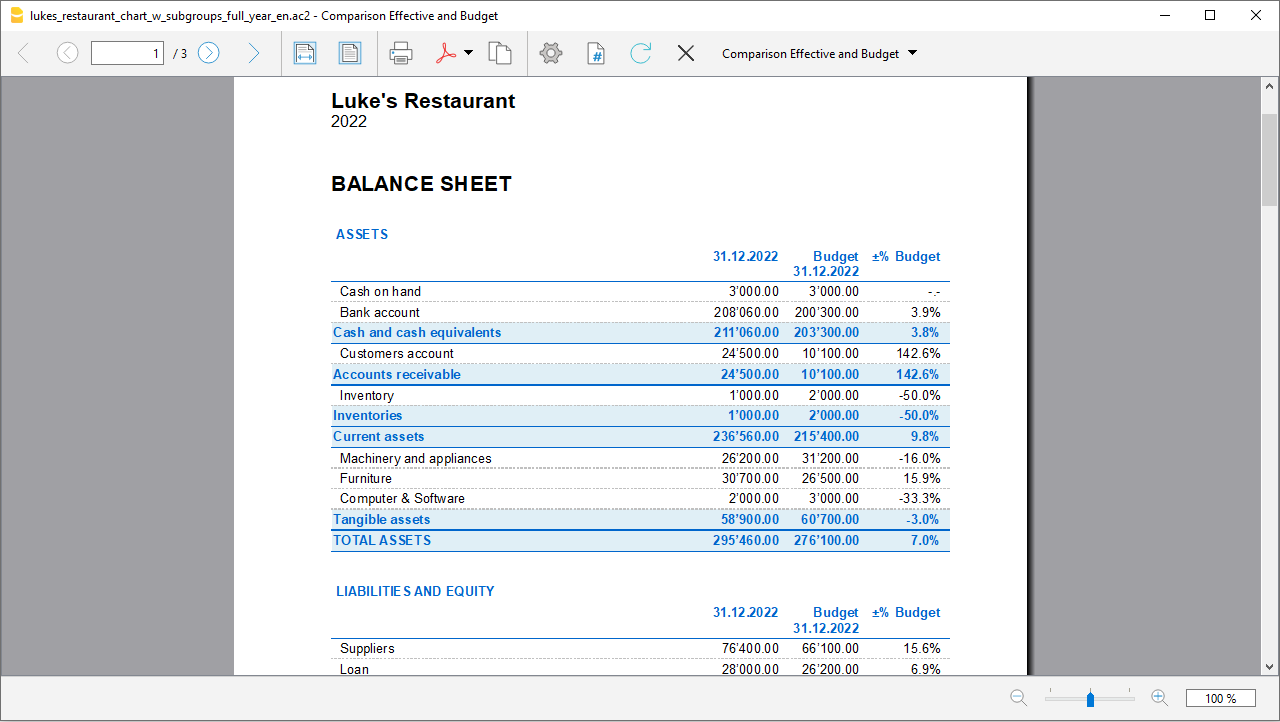 Professional invoices
Create and customize professional invoices fast and easy directly in the transactions.
By filling in a few basic fields, such as Quantities, Unit Price, Invoice Number, our amazing invoicing tool will automatically do the rest.
Then just send the invoices to your customers, print them choosing from our customizable templates, or even set up payment reminders.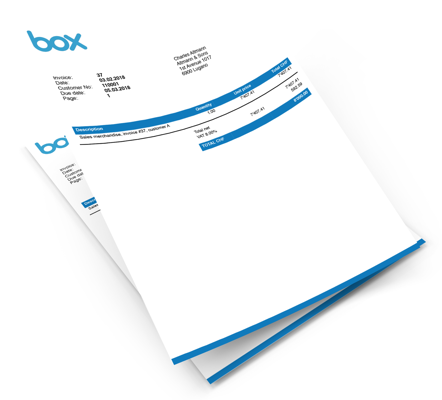 VAT management
Enjoy the simplicity of automatic VAT calculation and VAT summaries. The VAT suite supports any kind of VAT or sales tax with rate, gross amount calculation or partial deduction. Just customizie it!

Generate VAT reports where data is summarised and can be exported following the nation's tax authority strict format requests.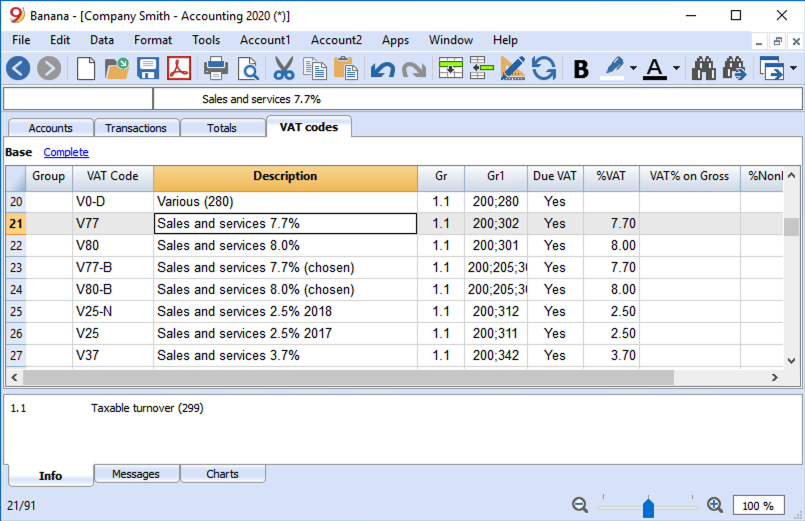 More options for your accounting
Improve your business with more specific features:
Manage customers and suppliers
Import transaction and easily change
Link transactions to digital documents
Manage multiple sectors of your company
Check accounting and be sure that everything is ok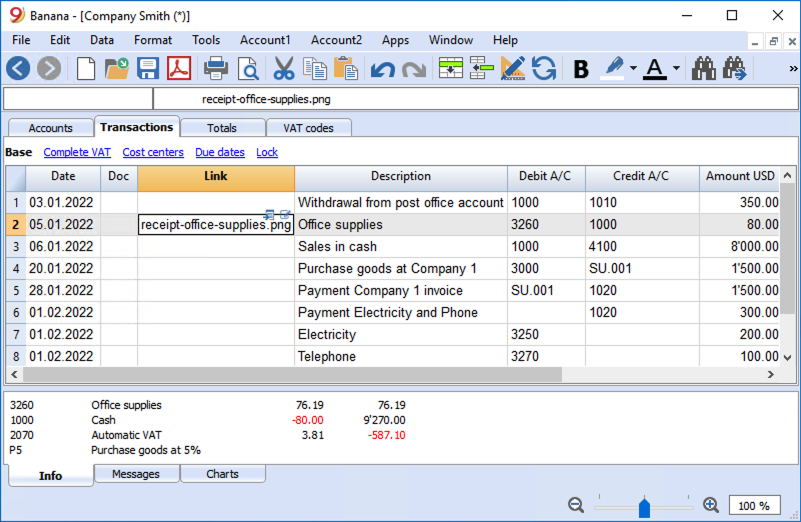 The Banana Accounting system helps us to maintain day to day, monthly, quarterly and annual balance sheets for the whole hospital and for the different donors.

Bro. Paolo Rizzetto, Medical Director/Acting Administrator
Since I discovered Banana Accounting a lot has changed for me. I can comply to the requirements of the country I live in, and I can guarantee the privacy of my client's data. With Banana I reached my goals and my company is more efficient.

Yong Feng, Dubai
We use Banana for our association. We are thrilled how easy operating it is, with the Excel-like design. The support is quick and easy to reach, and answers are understandable and competent. Top program and a clear recommendation!

Ralf Volker Nitsch
Swiss Financial Expertise For The World
Our mission is to empower and support enterprising people in achieving their goals.