The All-New Banana Accounting+
Your professional, simple and fast accounting software - only CHF 69/year.
Start for free, purchase one of our plans when needed.
Accounting software for small companies, associations and individuals, similar to Excel.
 
Easy and friendly approach
All your data are in tables, super easy to understand and edit. You can start in minutes.
Speed up your work
Be up and running in a few minutes with more than 500 templates to choose from.
More than just a spreadsheet
No fears, frustrations, or formulas. Error alerts and easy fixes, powerful automations and reports.
Discover the all-new Banana Accounting+
New! Banana Accounting Plus, our latest offering is now available. 
Even more user-friendly
For a more relaxed and productive user experience: the new Start Page makes your beginning easier, the improved graphics makes your work more intuitive.
See what else is new
Choose how to create invoices
Easily create professional invoices directly in the accounting file or manage them in a completely separate way. Print your invoices according to the new QR standard.
See what else is new
Manage your inventory
The fast and flexible way to manage your inventory or warehouse with items of any kind. You can even record the movements of goods from one location to another.
See what else is new
Accounting
Accounting
Take advantage of the wide range of our accounting applications: Professional Double-entry, Income & Expenses, Multi-currency, Cash Manager.
Learn more about Accounting Apps
Planning
Planning
Be always a step ahead by planning the future of your business. Usually an analyst's job, we made it simple, so you can really use it to better run your activity.
Learn more about planning
Reporting
Reporting
Get professional looking reports in a few clicks! Customize them as you wish and save your personal settings so you can recall them anytime.
Invoicing
Invoicing
Quickly generate professional looking invoices and estimates to send to your customers. Customize them as you wish, including your logo, and also print them according to the new QR standard.
Easily manage Clients & Suppliers, with clients' history and overdue invoices.
Learn more about invoicing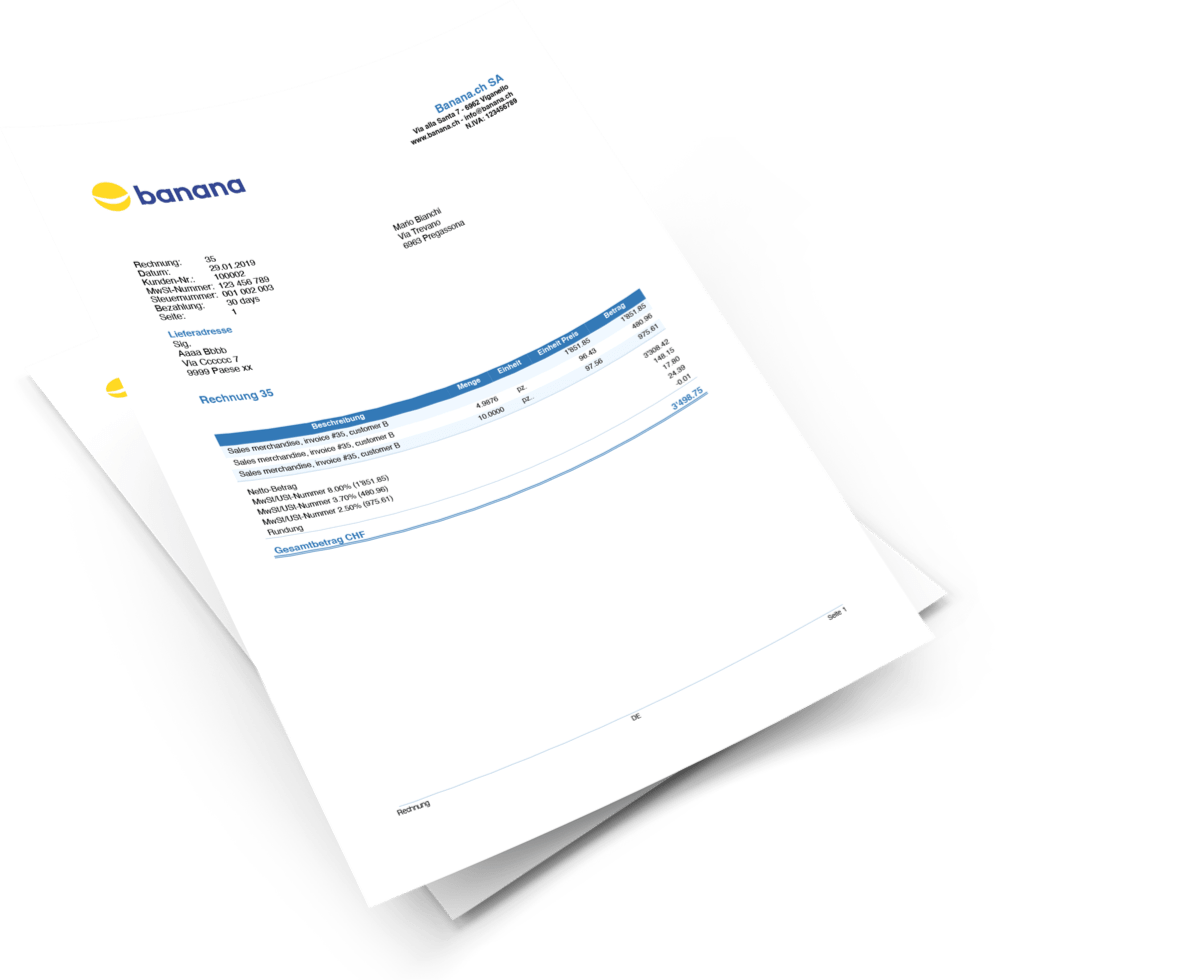 VAT management
VAT management
Easily manage the Swiss VAT, both on the effective and on flat tax rate methods.
Get your VAT report with one click.
NEW! Electronically send your VAT Xml file to the Swiss Tax Authorities
Learn more about VAT management
Inventory
Inventory
Manage your inventory or warehouse in a flexible way with items of any kind. If your company has more than one warehouse in different locations, you can manage them all in a single file and record the movement of items from one location to another.
Learn more about Inventory
Time Sheet
Time Sheet
Practical Time management application. It's the best way to keep yourself organized while making sure every second you work is paid.
Learn more about Time Sheet
Whoever you are, we have the ideal application for you
I decided for "Banana" because I was convinced it offered the best value for money. It is flexible, easy to learn and allows the exchange of data with customers.
Studi Fiduciari e Amministrativi
Marco Vescovi/Massimo Tognola - Switzerland
Thanks to the Banana program we have been able to expand our service by allowing customers to keep their accounting at home and send us the files to be checked, making them independent but in the same way allowing them to have supervision by specialists.
M Fiduciaria SA - Switzerland
I've often been able to train my clients in using Banana. It's easy to use, and it's a great way for startups and entrepreneurs to work efficiently, and I also set up the billing tool for my clients and have received consistently good feedback.
Susanna Keller GmbH - Switzerland