Banana Accounting+ for associations and NGOs
The easiest, fastest and most flexible way to manage the accounts
of a small non profit organization.
For every need and experience
Associations are based on voluntary work and those who manage them do not always have advanced accounting knowledge.
Our Excel-like interface allows you to enter data quickly, making the job intuitive for anyone. Transactions and accounts can always be edited or deleted.

The license can be transferred from one volunteer to another in case the treasurer should change.
Always have the situation under control
Balances are automatically updated as data is entered.
Print a variety of reports instantly, anytime:
Balance sheet and income statement

Donation certificates

Membership fee requests

Project or event details

Account cards from all accounts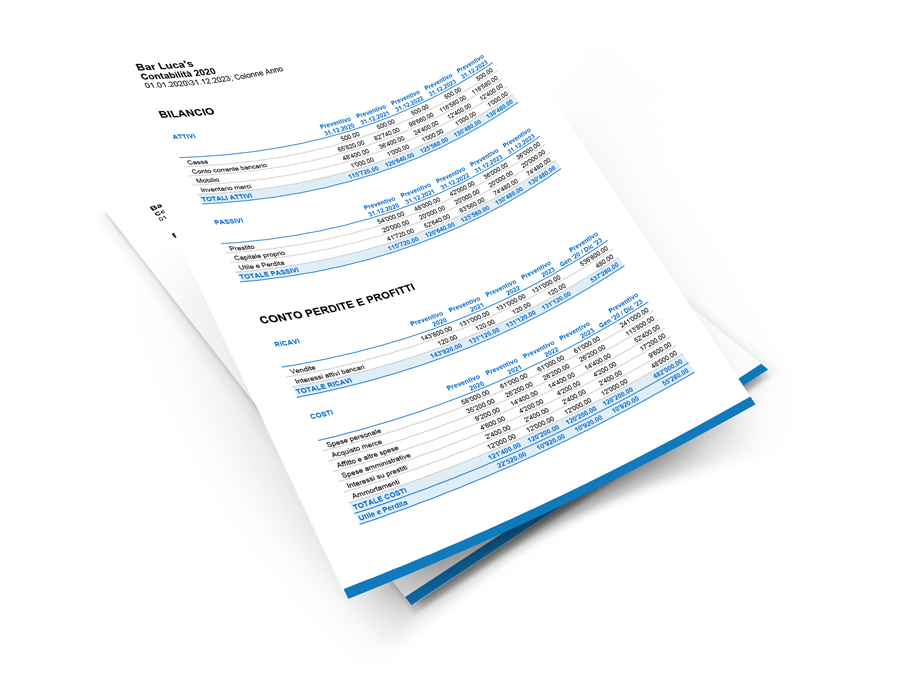 Everything you need to manage your association

Discover the wide range of Banana Accounting Plus features, designed to optimize your association's accounting management.
Different Applications
From basic to advanced.
Uncover all levels as your association grows.
For those who work abroad
Multilingual and multi-currency.
For associations also working abroad.
Financial Planning
Secure your future.
Budget, liquidity forecast, reports.
Automatic reports
Custom print balance sheet and profit & loss statement in a click
Data import
Automatic import of bank
and credit cards statements.
Membership lists
Membership list with addresses. Print labels.
Time sheet
Plan and keep track of your worked hours, your holidays and leaves.
Support and documentation
Great free resources
and the best support on the Internet.
Past, present and future
Discover and embrace the Plan-Execute-Control method to optimize the potential of your associations and achieve your goals. Banana Accounting Plus covers every area of your business management, even the future!
Creating a financial planning with Banana Accounting Plus is really practical and easy: enter your income and expenses forecasts and the program automatically creates the budget.
The choice towards Banana was made for several reasons: for the simplicity of use of the program, for its compliance with the requirements required by law, for the ease with which the accountant can extrapolate the data and, last but not least, for its affordable cost.

Parents and friends pro-handicapped ONLUS
I use the Banana accounting program both for a middle school parents' association, for a medical practice and for a SME. I manage 3 totally different kinds of accounting situations but thanks to this very simple and intuitive program I can find solutions without using the site / support; for what little I had to use it, I easily found the solution.

L. Pedrini
I had a lot of fears because I am absolutely not skilled neither in computer nor in accounting, but I must admit that with Banana I had an immediate feeling. It is an easy-to-use program for someone like me, and of great satisfaction. If I also take into account the very low cost, I can really say that the Banana has proved to be an irreplaceable work tool.

David Project Association
You can trust us
More than 300'000 users worldwide! 30 years of experience.
#1 in Switzerland.