Effortless Cash Management
The Banana Accounting's Cash book helps you keep track of all transactions associated with your cash or bank account, including VAT records, Cash Flow, receipts, payments, income, expenses. Intuitive. Quick. Easy to use.
Join us to simplify CASH management!
Use it for free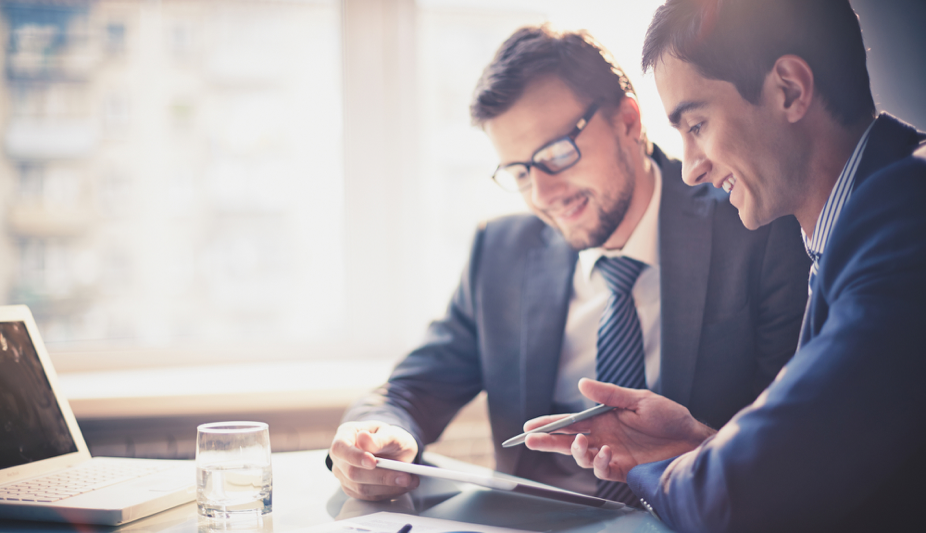 Streamline your financial transactions with
Fast data processing
Up to date accounting records
Balances by period
Professional reporting
Automatic VAT recording and VAT tax returns (optional)
---
Instant check: cash balance
Head to the Accounts table to see live the initial and current balance of the cash desk. With two intermediate columns that indicate the total amount of outgoing and incoming amounts, it's very clear and simple. For more details just click on the Cash Account.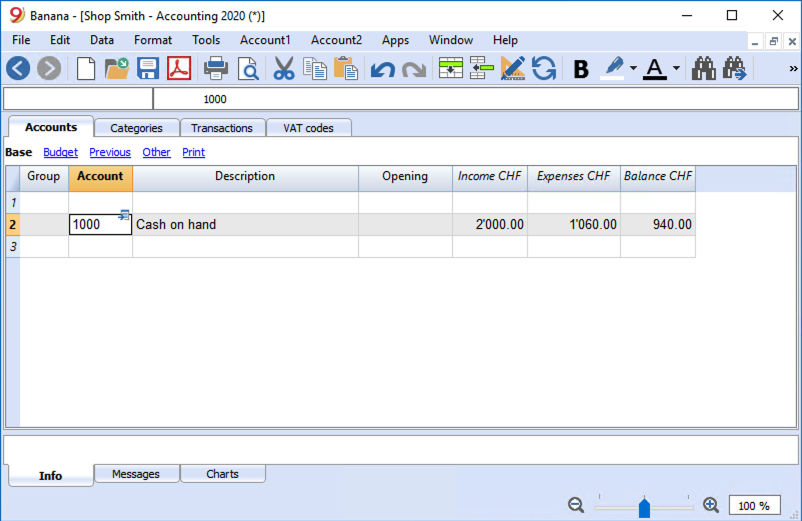 Expenses and income overview
Staying on top of day-to-day finances can be challenging, but Banana Accounting makes it easy. In the Categories table, you can see your income and expenses in real time. Now you'll instantly understand and link the money inflows and outflows with your current financial situation.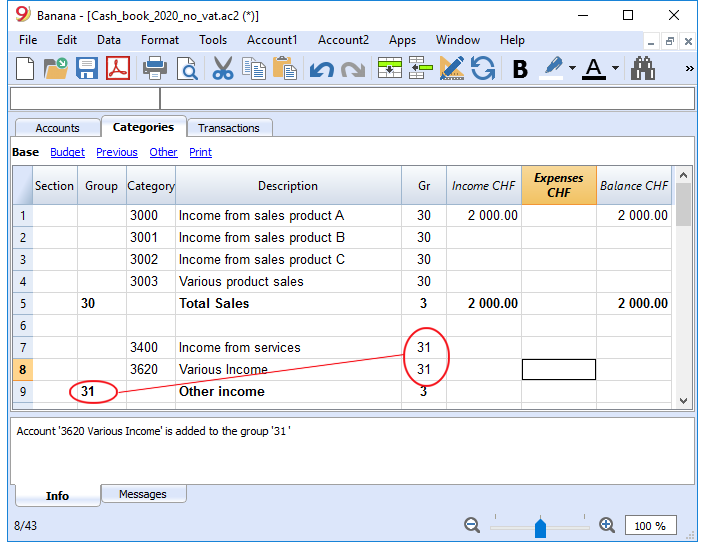 Quick recording
No advanced accounting skills needed! The interface is as simple as can be: insert, edit, copy and paste information as you wish. All data is neatly displayed on your screen. Banana Accounting helps you record transactions easily. It even suggests accounts, categories; it reports errors and differences that you can correct at any time. You can mark the recordings with a color, as visual reminders that you must complete or revise later.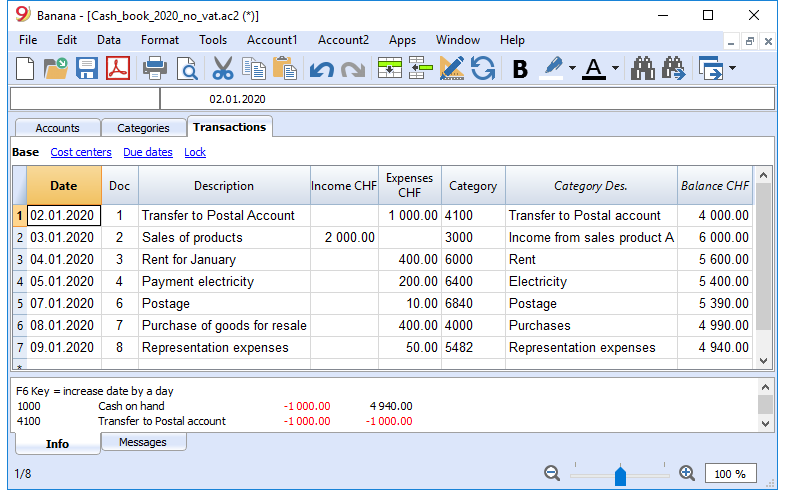 Record receipts in real time
Why waste time filling out receipts reports or worry about losing your receipts? With Banana mobile accounting Android and Banana Accounting iOS apps, you're ready to register receipts on the go, from your phone or laptop so you can make the most of your business traveling instead. Track and record expenses anytime, everywhere.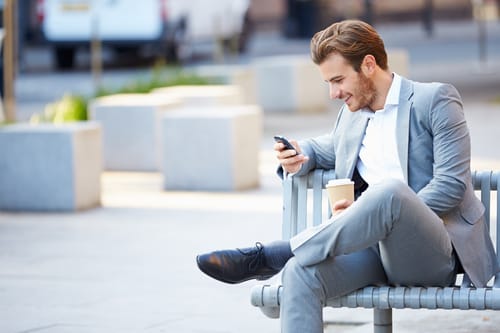 Organize your finances
Get a better overview of your finances by connecting cash and banking data in one place. Control account balances, transactions, import bank statements, then link recordings to digital files to sort out vouchers, receipts, direct debits, standing orders, invoices, refunds, discounts. One click at a time.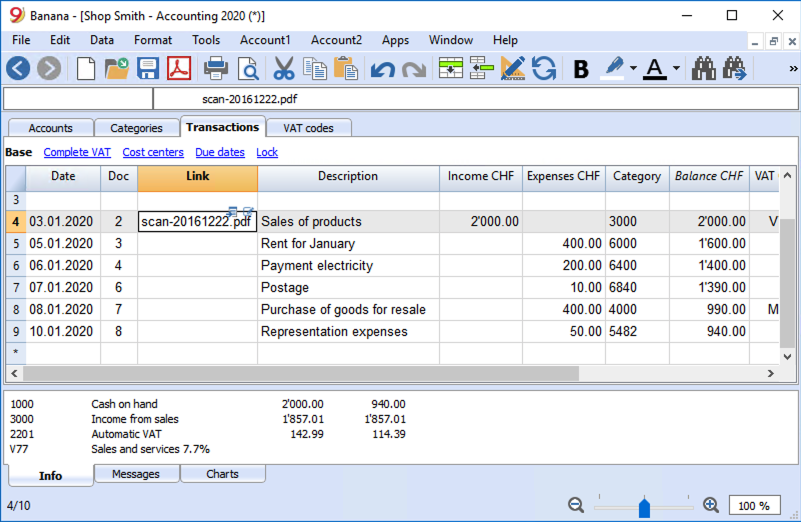 Professional results with one click
With Banana Accounting, anything from instant checks to accounting journal and your overall financial situation is a click away. After each registration, the balances are being updated automatically. Get professional reports, customized with the company logo, at the blink of an eye. Add a visual meaning to your data by highlighting columns and amounts with colors. And to save more time, store your reports settings for future use. View, edit and print them if needed. Pack all data in a PDF file, or export as Excel, Html, Txt. Smooth. Flexible. PRO.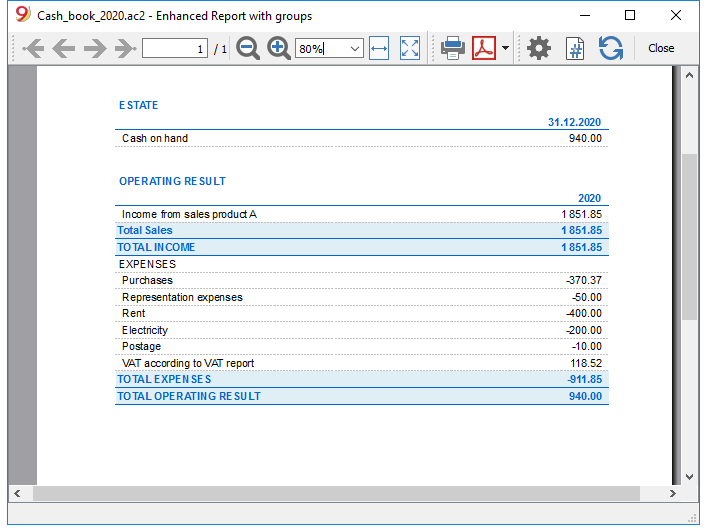 ---
Resources
Go ahead. Give it a go!
Download the Free Version, create your own file and start right now with your Cash Book ! Included you will also find other applications of Banana Accounting that you can try for free up to 70 recordings.
Download FREE Version