Home
Banana Accounting 7

It's never been this easy!

Banana helps you manage your finances, keep costs under control and enables you to not loose time with operations that otherwise would be complicated and time consuming.
Banana is ideal for small companies, non-profit organizations, churches, the self-employed, condominiums and for everyone who wants to keep his finances in order, knowing that this is the easiest and most efficient way to reach your goals.
You deserve the most up-to-date tool
Banana Accounting combines the ease of use and flexibility of a spreadsheet software with the strength and the features of an accounting software.
You can freely move between the cells to enter or edit data, you can change layout, add new columns or views. At the same time, you have all typical features and printouts of an accounting software.
All printouts can be previewed and saved in pdf format. For each feature, complete documentation is available.
Free Starter Edition mode without expiry date
DOWNLOAD Banana Accounting 7 and create your own accounting file. You can freely use all the features of the program, and enter up to 70 transactions. The free version gives also the possibility to display and print the contents of bank statement files in ISO 20022 format, the new standard format from on 2014.
In order to go beyond the 70 transactions limit, you need to buy the license key and enter it into the program.
1, 2, 3, .... and the accounting is done!
Choose the best application for you
Set up the chart of accounts or the income and expenses categories
Start entering transactions
You can immediately see how much cash flow is available and what you have spent or gained. With just a click, you have access to the details of the different expenses, to the Balance Sheet and the Profit & Loss Statement and many other reports.
Choose the template that best meets your needs
You can choose between different templates, from the Income & Expense accounting, to the Double-entry accounting or the Multi-currency accounting. These templates are set up for different user groups (personal use, self-employed, non-profit, shops, etc.), in different languages, for different countries, and can be customized completely.
For Switzerland, the Charts of Accounts have been set up according to the new PME system in Italian, French, German and English.
Optimize your tax presentation
Managing your finances with Banana, you can instantly know the state of cash and how your business is going. You can evaluate whether it can be advantageous to invest or to issue invoices for ongoing projects before the end of the year; by entering different possible transactions, you can easily simulate your end-of-year situation and decide your best fiscal combination.
Present your accounts in an impeccable way
You can set up the printouts of the Balance Sheet and Profit & Loss Statement for specific purposes: for personal use, for the IRS, shareholders, other members or banks. You can choose to display data by month, quarter, year and compare them with the previous year's data or the budget. You can also customize the styles and colors.
Enter transactions like an expert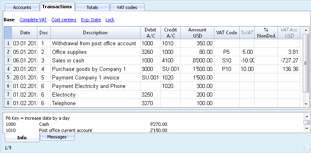 Transactions can be changed. If there are differences between bank statements or if you discover that the transaction was debited to the wrong account, you can correct it. If you send the file to your accountant, he can correct any mistake and complete the year's end.
If you need to, there is however the possibility of locking the transactions with a certified and patented system of the electronic signature.
Keep it simple but flexible
You can add or rename accounts and cost centers. If you need to keep track of a certain activity (project or event), you can create a new cost center and connect it to the transactions already entered.
Don't waste time writing data that are already on the computer
Save time and avoid errors importing your bank accounts statement from the e-banking.
With a simple "copy and paste" you can get data from and to Excel or to and from any other application.

Get your tax (VAT) report with a simple click IVA
Templates with integrated TAX management allow you to set up rates, to break down and record the VAT on separate accounts and to print reports.
The form for the Swiss VAT report is already included.
Expand your activity abroad
There are templates of double-entry accounting set up to manage accounts and transactions in different currencies.
Easily manage multiple accounting files
Each file is an accounting (financial) year. You can manage an unlimited number of accounts (client compatibility) and keep open multiple files and years at the same time.
Easily store and find your accounting information
You can generate a pdf file containing all your accounting information: chart of accounts, transactions, account cards with the movements, Balance Sheet and Profit and loss statement.