The new version 9 of Banana Accounting has been successfully launched, and is now available wirh all authorized online and offline retailers. For those who manage Swiss VAT, the new version is strongly recommended as from January 1, 2018, as  rates have changed and therefore the user must adapt the VAT Codes table.  Unlike previous versions that don allow you to update the VAT table, Banana 9 also allows you to obtain the facsimile of the VAT reports  for the 4th quarter 2017 and those of 2018.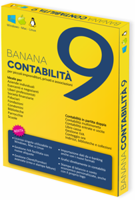 At least 10 reasons to update NOW:
Banana 9 allows you to adjust the VAT Codes table for the prevailing rates.
Banana 9 allows you to prepare the forms for the Effective method or Flat tax rate method reports.
You will save time with Banana 9 as performance has been improved ...
... and money as there is now one unique licence valid for all operating systems (Windows, Mac o Linux)
Invoices can be created managed as well as ..
... printouts customized with your proper logo
Should you have any specific needs, you can download Apps to adapt your program for free.
Graphs can be created directly from the Chart of Accounts
Import your e-banking with the new ISO 20022, camt.052, 053, 054 formats
Files created with previous versions of Banana software are be opened with no problem with Banana 9.
 
Very advantageous updates are available for users with previous versions directly from us. Free under certain conditions!