Banana accounting mobile is the mobile version of Banana Accounting 9 for phones and tablets, and is currently available for Android devices.
Completely free - you can download it from Google Play
Works on Android version 4.2 or higher
Files are 100% compatible with the desktop version.
Files are direclty syncronized with your Google drive or Dropbox account
Banana accounting mobile is designed to view and edit existing accounting files, and consult data directly in the Accounts table. Several features are only available in the Desktop version.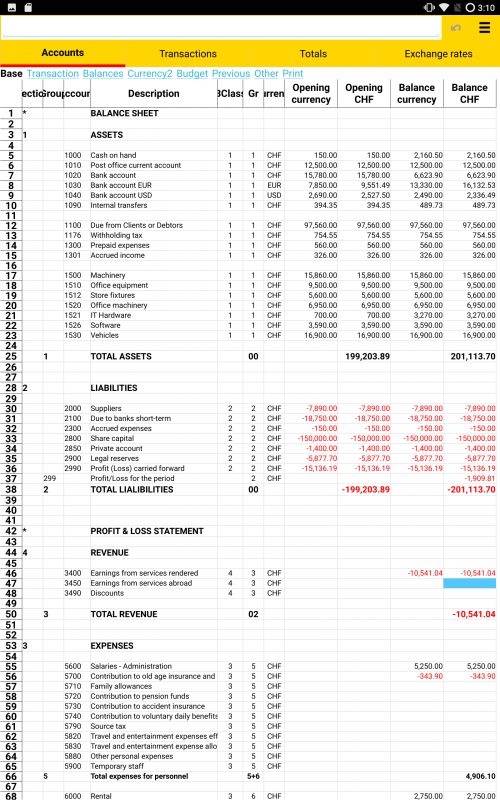 Installation
Install Banana accounting mobile for Android with Google Play

There are several different Android smartphones and tablets. Please contact us if you experience any problem with your cell phone or tablet.
How to manage accounting files
You can save your accounting files on your Google drive or Dropbox. Click on the button "Connect to Dropbox" to syncronize with your account and work directly on the cloud.
To work locally, load your Banana Accounting files USB cable and save them in the "Documents" folder.
Limitations compared to the Desktop version
Banana Accounting Mobile has been optimized to offer an easy and fast access to your accounting data when you are on the go, and to make small changes to them. The operational calculation engine is the same - from the accounting point of view there are no differences. Compared to the Desktop version there are limitations concerning the interface and the way of use.
It is not possible to create new files. In order to do so you need to create the file with the Desktop version.
Several commands are not available in the mobile version.
If you make changes to your files, it is currently possible to save them only if using Dropbox.
Creating a new accounting file
Choose the accounting template you wish to use with your Banana Desktop version
Save the template on your Adroid or Google drive or Dropbox
Open it with your Banana Accounting Mobile
Feedback
We want to include in Banana Accounting Mobile all necessary features without compromising its ease of use.
Please let us know your needs, the context of use and give us feedbacks and suggestions.
Please use our online contact form to contact us.