The Financial Planning feature of Banana Accounting 8 Software allows you to simulate the creation of a Startup in full detail, as opposed to those of a project, construction of a house or private finances of a company or an association. It lets you generate accurate predictions about the evolution of your liquidity,  your projected profitability and financial statements.
The Simulation mode can be set up for both a non-existing enterprise, or for an existing one. In the latter case, the program will show you the gap between your actual situation and your budgetted data.
Benefits and Features
CashSimulator makes it easy to plan the economic and financial evolution of your Startup, Company, Association or Project:
Prepares the financial reports necessary for the presentation of a Business Plan (Budget, Profit and Loss account and Projected Cashflow).
Improves your chances of success. The control of your anticipated costs and the liquidity projections will help you avoid erroneous expenses and remain focused on the customers that contribute to your profitability: this, in turn, will improve the effectiveness of your work.
Makes it easier to obtain financial support and subsidies. A detailed financial plan will enhance the credibility of your project and highlight your ability to manage your finances. This will increase your chances to convince potential investors, partners or other entities of the validity and solidity of your initiative.
It is easy to use. The detailed preparation of a planning will take little time away from concentrating on your core business.
Immediate results. There is no need to set up any worksheets or formulas: your financial plan can be set up in less than 10 minutes and can be adapted and improved at a later stage, whenever it suits you.
Financial plan. The forecasts being used to prepare the financial part of the business plan are: Budget, Profit and Loss account, Projected Cashflow and Break even Analysis.
Financial Planning in detail. As an option, each expense may be recorded in detail, which the program will then group by category and time period. Repetitive operations (such as rent, salary) need only to be inserted once.
Different ways to indicate the amounts. Can be a fixed amount, or a fixed unit price multiplied by a given quantity, via a calculation formula.
Easy data update. Lets you adapt your Financial Plan to changing circumstances, modify, add or move your income and expenses according to your new time frame.
Schedules for one or several years. Short, medium or long term planning for the evolution of your business are possible.
Evolution of your business. Projections can be broken down by month, quarter, or year.
Detailed listing of costs. Lets you optimize all your expenses and figure out which ones you may schedule for a future date.
Cost centres and business segments. For an even more detailed control of individual projects or positions.
Automatic calculation of interest charged on your actual use of credit(s). Will show you the financial burden at the end of each quarter or year.
Comparison to the Balance Sheet. Allows you to comprehend how your actual accounting figures evolve versus your Financial Plan and lets you to take immediate corrective changes.
Available for all accounting types. You can use Financial Planning for Income & Expense accounting, Double-entry accounting, Multi-currency accounting as well as with or without VAT.
Ideal mean to learn accounting. Once you have learned about inputting your budget transactions and you understand the reports, you'll be able to manage your own accounts! Once you start your business you'll be ready to record your actual Income and Expenses.
Export data to Excel. Create graphics for further analysis.
Financial planning: a powerful and easy tool to handle
Finanacial Planning was conceived as an extension to Banana Accounting 8 software. The Budget tab is available for any accounting type and chart of accounts that suits your business. This is the ledger for entering your projected transactions, by detailing the date, description, accounts and the amount for each transaction that will serve for the simulation you wish to proceed with.
Your recurrent financial obligations (rent, salaries, subscriptions, interest) have to be inserted only once, indicating their frequency (daily, weekly, monthly, quarterly, annually) and the eventual date that terminates your contractaul obligation (for example the end of a lease).

Based on the opening balances in the accounts and the recordings in the Budge tab, the program will calculate the forecast for the period specified and display the data in the typical format for Balance Sheet, Profit and Loss Statement, account cards, for the entire period of the Budget or broken down by month, quarter, semester or year.
Economical and financial planning
The CashSimulator feature is an enhancement of Banana Accounting 8 software. 
Reports generated by Banana Accounting 8 software, based on actual data, are also available for your simulation:
Provisional Balance Sheet.
Estimate the evolution of assets and liabilities, on a certain dates .
Budget your income and expenses statement.
Evolution of profitability in the months, quarters and years to come.
Forecasted liquidity planning.
Evaluate and display the liquidity in times to come, the detail of Income and Expenses and the factors affecting it.
Break-even analysis.
Will signal when, exactly, your activity reaches its financial equilibrium.
Financial estimates, by cost centres, for projects and business segments that are part of your enterprise.
Comprehensive or specific evaluation of several projects.
Detailed reporting of all transactions pertaining to one group or account.
Figure out which expenses will form a position or create important variations in the cash.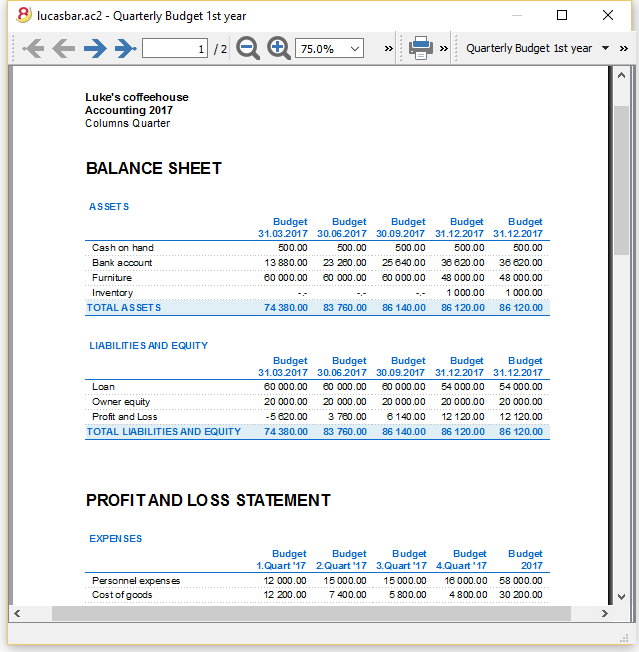 Easy setup
Your own planification in a few minutes:
Install Banana Accounting 8 Software on your computer.
Download and open the most appropriate template in Banana Accounting
Regiter you transactions relating to your activity in the Budget tab.
If you have already existing accounts inBanana Accounting 8 Software  :
Add the Budget table to the existing accounting.
Register your transactions in the Budget tab.
This section lists the links to documentation and related models on financial planning.
Further templates
Financial planning is an integral part of Banana Accounting 8 software and you can choose and adapt the most appropriate template for your activity and add a Budget tab.
Reference documents