Banana accounting mobile is the mobile version of Banana Accounting 9 for phones and tablets, and has been adapted to Chrome OS. (also see System requirements)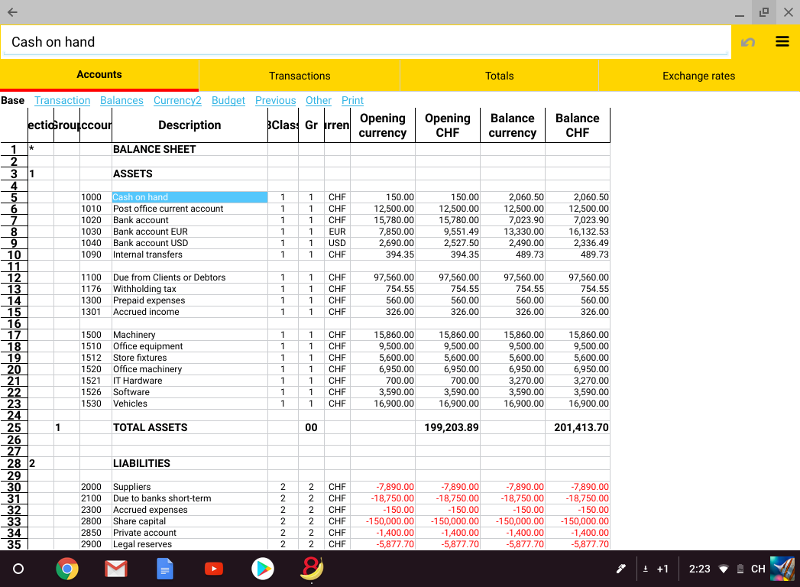 Installation
Check if your device supports Android Apps:
https://www.chromium.org/chromium-os/chrome-os-systems-supporting-android-apps

Update your Chromebook software
Your Chromebook must run Chrome OS version 53 and up

Sign in to the Google Play Store

Click your account photo.
Click Settings .
In the "Google Play Store" section, turn on Enable Google Play Store on your Chromebook.
Note: If you don't see this option, your Chromebook doesn't work with Android apps. 
In the window that appears, click Get Started.
You'll be prompted to agree to the Terms of Service. When you've read and agreed, click Agree.
To confirm your current Google account, click Sign In.
You'll see the Google Play Store app open. In the box that appears, click Accept.

Open the Google Play Store, search for Banana Accounting mobile.
Limitations
Banana Accounting Mobile has been optimized to offer an easy and fast access to your accounting data directly in the Accounts table. Several commands and reaports are only available in the Desktop version.
Feedback
Banana Accounting mobile for Chrome OS has been released for the first time in September 2017.
If you have any comments or feedback Please contact us.