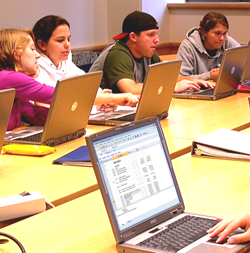 ​
E-Learning with Banana Accounting:
Thanks to Banana Accounting, the concept of Active learning con be put into practice. The students learn easier and faster how to manage an accounting and are already prepared to enter into the labour market.
User (Student-) friendly: Banana Accounting is easy to use because its main interface is just like Excel, a program that most students are familiar with. This allows teachers to concentrate on accounting matters without wasting precious time.
Accounting and financial planning: Students are learning while entering the records of the past or simulating the creation of a Start-up. They can immediately observe the impact that certain operations will have on the profit or the cash flow in the next few years or months.
Highlights the mechanisms of Double-entry accounting: This makes it easier for the students to understand and get used to accounting techniques.
International accounting standards: Students are learning important knowledge for whatever nation or branch that at the same time are fundamental for the use of other accounting programs.
Use on the students' computers: In order to do school exercises on their own personal computer, students can install the Free Version with which all the features can be used, up to 70 transaction rows.
No costs for the school, the teachers and the students : Banana Accounting saves the school's financial resources by offering a free license for schools and the Free Version that is available for all.
Version for Windows, Mac and Linux: Banana is available for Windows, Mac and Linux. Its files can be exchanged between the different operating systems.
For more advantages, see also Resources and List of Schools.
Teaching students to prepare Balance sheets and enter transactions
Banana Accounting is an accounting spreadsheet with which students can practice and learn to: 
Prepare Balance sheets and Profit & Loss statements
Enter into the Double-entry accounting transactions of all different kinds, sales and purchases, paid cash or with invoice/credit card, adjustment of the stock, depreciation, closing transactions and other recordings, etc.

Structure the chart of accounts in order to adapt it to the needs of companies

Manage accounting with foreign currencies.
Financial and cash flow planning
With Banana Accounting, one can create financial budgets and simulate the creation of a a Start-up.
Completely based on the Double-entry accounting system
Balance Sheets/Profit & Loss Statements per month, quarter or for future years
Use of multipliers and formulas
Automatic calculation of future interests
Manage accounting with foreign currencies.
Documentation and link exchange
If you have prepared or published documentation, examples or other information that could be useful for others, we invite you to make it known to us, so we can insert a link on our website. 

We also invite schools to insert a link to our website www.banana.ch and to this page in particular, on the school's website, a personal site or page, on twitter or facebook.
Students can easier find information, documentation and download the free version

You help other schools and other teachers to know about this offer

Thank you, you help us make the program known and by doing this, to develop it further

Thank you, you help us increase our rankings in search engines